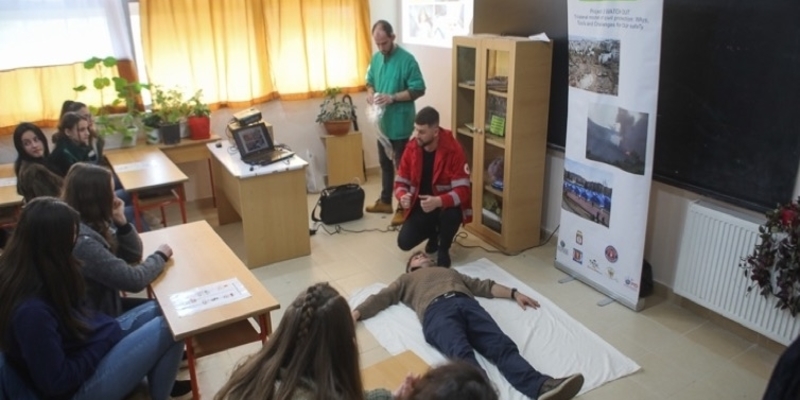 Series of Workshops and Awareness Days in Albania
Overview
Foundation "Partnership for Development" in collaboration with the civil Emergency Unit at  Municipality of Vau Dejes organized an amazing set of activities from 11 February to 03 March 202o. These were Training and Workshop sessions and Awareness days on potential emergencies. 
PfD managed to involve a very broad target group. From Civil emergency unit of Vau Dejes municipality, representatives of the Fire department, representatives of volunteer groups, physicians and paramedics, school teachers from the region and of course, the students. 
During the workshop days, the trainers explained the risk reduction steps and focused on how the situation can be managed, before during and after the catastrophic event. 
The workshops were organized on the Bushat and Vau Dejes unit while the awareness days took place in 6 schools in the localities of Hajmel, Bushat, Barbullush, Mjede, Pistull, and Stajke.
The subject treated by these theoretical and practical education activities were: 
The Seismic Hazard - The workshop was led by an expert specialized in this field. This activity encountered a great interest from the students and participants since Albania experienced a strong earthquake very recently. 
The Fire Hazard - deployed by the representatives of the Fire department in the municipality of Vau Dejes. The expert explained the practical aspects of the fire situation management in the home, school, nature, etc. There was a lot of interest and questions for this expert   
Flooding Hazard - This particular geographic area was chosen for the awareness days since that territory often faces floodings in the winter session. The medical staff involved explained the different ways of intervention. They organized demo sessions on different cases of hazard.
PfD Foundation has also prepared printed brochures, flyers and the Instructions related on earthquake, fire or flood situations, on emergency phone numbers, etc.