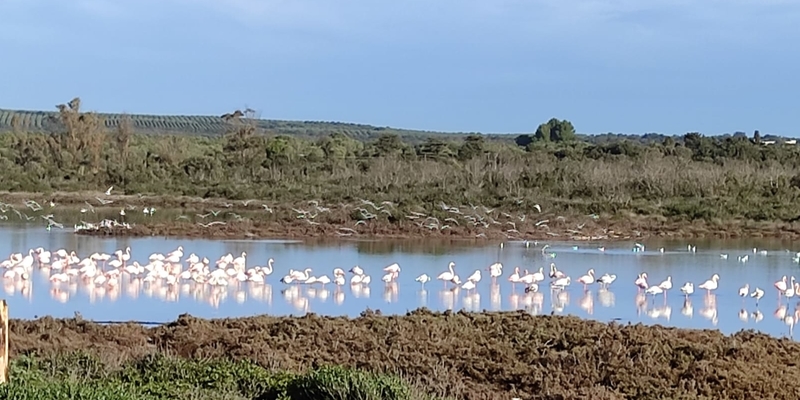 Special plants will preserve the natural landscape of the protected area in Southern Italy
Overview
Our "3 WATCH OUT" project has started naturalistic engineering and dune restoration interventions in the Palude del Conte protected area.
The interventions, for which the project partner Department of Agro-Environmental and Territorial Sciences of the University of Bari is responsible, are part of the pilot actions of the project, consisting in the application of naturalistic engineering techniques that involve the use of plant Mediterranean species, aimed at reducing hydrogeological vulnerability in areas at risk, also operating with a view to protecting biodiversity and eco-compatibility.
In order to carry out the interventions and coordinate the various subjects involved, two agreements were signed: the first between the University of Bari, Puglia Region, Civil Protection Department and the Natural Reserves, and the second between the University of Bari, ARIF Puglia and the Natural Reserves.
During the inauguration of these activities the Regional Councilor Dr. Donato Pentassuglia, assisted by Dr. Francesco Ferraro, Director of ARIF Puglia, stressed the importance of sustainable development of the territory. The commitment of the Puglia Region consists of the dune restoration actions over time using naturalistic engineering techniques. This natural landscape has been heavily eroded especially in recent years.
Dr. Gregorio Pecoraro, Mayor of the Municipality of Manduria and Natural Reserve Management Authority, highlighted the importance of the pilot project for the scientific aspects started in one of the less populated areas of the Manduria coast, where it will be possible to monitor the growth of the plants.
Finally, prof. Francesco Gentile, from the University of Bari - Department of Agro-Environmental Sciences and coordinator of the pilot actions, confirmed the daily synergy with the staff of the protected area, coordinated by the Director Dr. Alessandro Mariggiò. Among the specific objectives of the interventions, he listed:
• the morphological restoration of the dune system of the stretch of beach of the Palude del Conte, since the conservation of the dunes is a fundamental point of the integrated management of the coast;
• the renaturalization of a small part of the canal which, although of artificial origin, can play an important role in the ecosystem balance within the river systems and wetlands in the Reserve.
• the experimentation of technical measures such as the use of native plant species appropriately selected by the Basile Caramia Research Center in Locorotondo, in order to ensure the quality of plant biodiversity in local ecosystems;
• the possibility of presenting applications of technical-scientific know-how that can be shared from the perspective of international and trans-Adriatic cooperation, in compliance with the principles of the INTERREG IPA CBC Italy - Albania - Montenegro 2014-2020 Program.
 
Keep following the updates on this initiative on our website!