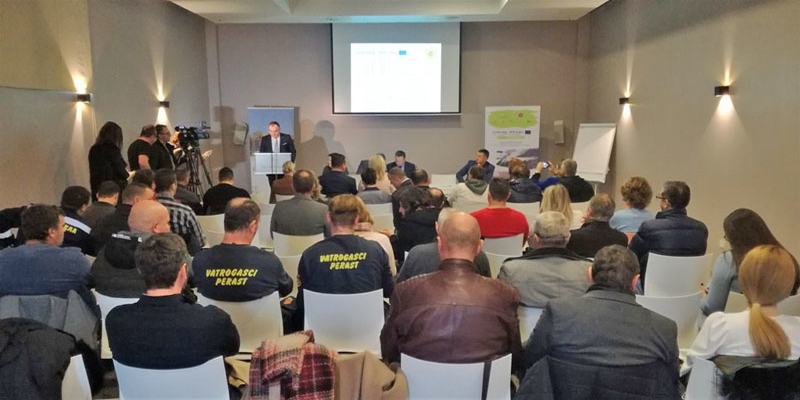 Table Top Exercise in Herceg Novi: the right choice of location
Overview
The Table Top Exercise (TTX) about Seismic hazard, a specific way of testing the efficacy and the coherence of procedures and plans, took place in a wonderful Palmon Bay resort in Herceg Novi. The choice of the location is not just due to the beauty of this medieval coastal city, as explained in the opening speeches by the Mayor of Herceg Novi, Mr. Stevan Katic and the Head of the Directorate for Emergency Management of the Ministry of Interior, Mr. Mirsad Mulic.
"Herceg Novi is known to be among the parts of Montenegro with the highest level of seismic risk. But this municipality is also among those with the highest level of sensitivity for the issues concerning the protection system and is performing in that area in an exemplary manner. This city was among the first to develop the Earthquake protection plan, as well as wildfires and flooding documentation. They also show the highest level of voluntary initiative in their fire departments", said Mr. Mulic.
It is also of great importance that this TTX is held now providing a deeper insight into the way local plans fit into a broader context. This is very important if we want to ensure the efficacy of the local plans and reactions. The response to seismic catastrophes must be adequate and timely. They also need to fit into the EU procedures which have demonstrated their quality in the aftermath of the recent earthquake in Albania. Montenegro played an active role there, as Mr. Mulic reminded.
Representatives of the local Protection and Rescue Team from Herceg Novi together with their Mayor worked with the members of other Protection and Rescue teams, radio amateurs, local Red Cross organization, mountaineering club, voluntary firefighting teams, the National Power company, Montenegrin Institite for Hydrometeorology and Seismology, Directorate for Emergency Management of the MoI, and secretaries of municipal teams for protection and rescue from Tivat and Kotor.
The participants were very satisfied by the level of knowledge and the efficacy of the rescue procedures from Municipal and National Rescue plan in case of Seismic events. They trained the application of procedures related to the coordination of the request an receiving of international help via the EU's Mechanism for Civil Protection.
This TTX is part of 3 Watchout project. This project puts a lot of emphasis on the coordination in this SE region of Europe (specifically Italy, Albania, and Montenegro). These areas are sharing similar seismic risk, gathering together in this project to assess and improve their procedures and levels of preparedness. Thus, similar exercises and tests will take place in Italy and Albania also.
Catastrophic events cannot be prevented but their impact can be significantly reduced by adequate, prepared and coherent types of actions.